Is Nike's Metcon Free X the best functional fitness shoe ever?
Preface
Foreword
On numerous occasions I had tried to do a YouTube video for these shoes and could never quite do them justice on the format. I would rave about them for upwards of twenty minutes then after recording it, remember another twenty or so things I wanted to say about them. Nike loves to take chances with it's Metcon line, and this shoe is the culmination of all of their good ideas. In my opinion, it is their best shoe to date and easily the best shoe of 2018.
First Impressions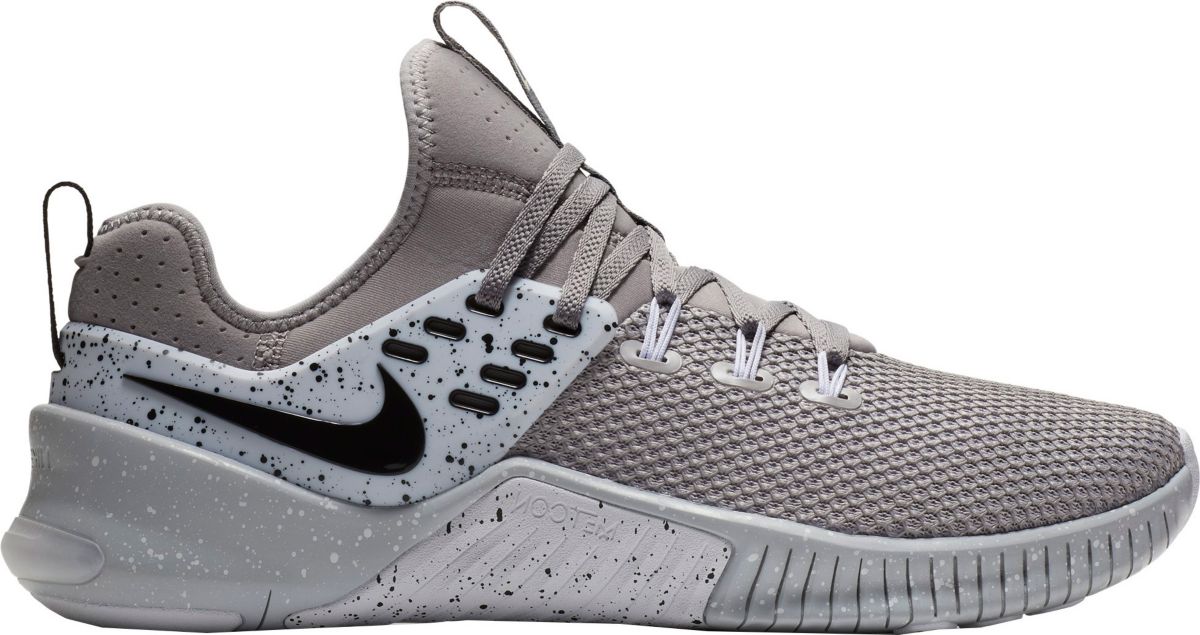 The first pair I laid eyes on were the grey and whites. They look like a throwback to the eighties with their speckled TPU and Back to the Future feel to them. I pretty much buy every functional fitness shoe when I see them, but this was love at first sight. After the first day trying them on, I immediately ordered a second set of them as the "Just Do It" pair became available and I couldn't help but love their overall style also.
Fit and Performance
I wear a size eleven and have a narrow foot. It fits well, with a bit more room in the toe box than the rest of the Metcon line. There is tons of flex here and they are absolutely superb for running. At one mile, they are absolutely fine, and I've run a 10k in these and never felt uncomfortable. After a little research I found that the comparable Nike "Free TR V8" line wasn't originally CrossFit specific and is designed to be a trainer and "runner friendly." They even carried over the TPU upper and overall look from that design.
Inside the gym, these perform quite well for cardio based and light weightlifting movements. They are great for rope climbs and have a plastic toe clip in the back for handstand pushups. If you're picky about heavy Olympic weightlifting, chances are you already have lifters to switch into, but I found these to be serviceable for Olympic lifting. They do have quite a bit of "bounce" in the heel, but after you've worn these long enough, you'll forget about it.
The normal questions that come up with Metcon's usually have to deal with the squeak. I can happily report to you that is absent here. I can only find that issue in the primary "numbered line" of Metcons and their Flyknit offshoot. As far as the toe box they feel a bit bigger and this may be great news for those with wider feet who love Nano's solely for that reason. I would go to your local sporting store and try them on to be sure.
Value and Final Thoughts
I'm really impressed by how my first pair of these held up. I have used them for long runs, short hikes, walking around campus, and out and about with my friends. They are fashionable and functional, so much so that I bought a third pair in July of last year and whenever I see them on sale I get an itch to buy a fourth. Luckily the second generation of these are available, and as of this writing they're being shipped to me.
The value of these are absolutely insane. Upon release they were $120 and as of today you can pick up a pair for as low as $70. I've seen deals as low as $60, but those get snapped up quickly as the secret is out on how great these shoes are. If you're in the market for a new pair, they can't be beat. If you do a lot of Olympic lifts but you're not quite ready to commit to a dedicated set of lifters, the standard Metcon and Nano's will be a better look for you. But if you're not picky about that and want a shoe you can use anywhere for pretty much anything, the Metcon Free X is the best functional fitness shoe of 2018.
EDIT
I feel that it's worth mentioning that the shoe laces on these shoes have a tendency to come undone for what ever reason. My girlfriend had tried to double knot them and they would still come undone during long runs for her. For me, they would come undone during double-under jumprope and also long runs, but I remedied this by tucking them into the TPU upper.